Denuwa Web-Design & Media-Design
References
www.klosterkirche.de
German romanic church in the village of Lippoldsberg (German language)
After 10 years this website was relaunched in 2015. The layout is responsible for each possible display size. The structure of about 800 pages was re-ordered and the design changed from cool grey and red to warmer colours.
klosterkirche.de was second winner in a nation-wide German competition for religious internet presence. Good quality of the more than 1200 photos and reproductions was one of the evaluated criteria as well as the clear and professional style of web-design.
---
www.sicherheit-am-baum.de
Expert for trees - Jan-Philipp Wagner (German language)
Images have their own language, therefore the photographs of this small web project are used as narrative elements. Various case scenarios are displayed, which can cause damage to trees. The text is focussed on the gist of this profession and more like a business card. We were asked to take care of updates.

---
www.kirchenkreis-kaufungen.de
Church district in the North of County Hessen (German language)
Modern box design creates a clear and friendly layout. We installed the CMS Contenido, to make sure, that the secretary is able to implement new images and text. The fluid layout adapts to mobile devices and performs perfectly with smartphones, tablets and netbooks. The website was built in close collaboration with MVision Design (Kassel, Germany).

---
www.herberge-klosterkirche.de
Hostel at the Minster of Lippoldsberg (German language)
The old-style hostel is a restored builing right beneath the Minster of Lippoldsberg, a beautiful place at the river Weser. Small groups up to 12 people, pilgrims and wanderers are welcome to stay a night or more. The website has a monastic touch and simplicity, different galleries tell more than words can do. We've included responsive design for mobile devices. We took most of the photographs.

---
www.power-glocke.de
Power-Glocke - an ingenious plumber's helper (German language)
This is just a single-item-shop, but is professionally built and easy to use for customers who need help with blocked sinks. The default responsive template from "Shopware" ist used with only little changes to match the colours of the logo.

---
www.laibella-festtagskaese.de
Laibella - Cheese for special occasions
Looks like cream cake, doesn't it? But to tell the truth - it's cheese! Creative and extremely culinary cheese for parties and special occasions. Just look at the images on this classy designed, hand coded and responsive website and you can almost taste the precious spices and creamy cheese. We took most of the photos and ate it all up afterwards. Delicious!

---
www.dgl-ev.de
DGL - German Limnological Society (German language)
The new website of the DGL was built in agreement with the rules of modern web design on the basis of a content management system and responsive design for mobile devices. The main focus is put on current information for the members of the DGL, which happens in the responsibility of our client, who was trained to use the CMS.

---
www.gartengestaltung-wieneke.de
Gartengestaltung Wieneke - Oberweser (Germany)
This website is based on a very complex design, yet it looks linear, direct and clear. The main focus is on dozens of photographs in random series and typical galleries. The advertising text was written by us after an interview. A 100% carefree package is part of our contract.

---
www.ferienwohnung-wesertal.de
Holiday Home - Appartement - Weserblick
Weser Valley in Oberweser (Germany)
You can almost smell the atmosphere of the the country side on this website. It's about a beautiful holiday home, a two storage flat and a separate modern appartement. It's settled in the romantic valley of the river Weser right in the middle of Germany. It's called the Oberweser Region. The river flows right in front of the house and is a perfect place to rest and relax.

---
www.baeckerei-wegener.de
Bioland-Bakery - my Bakery Wegener (Germany)
The highest priority of this bakery is transparency and declaration of all ingredients used in their products. The long established company is customer- and employee-friendly, which should be mirrored on the internet as well. A well balanced structure and speaking images are an important part of our design. We supervised the online-project from the very first day and will keep it up to date.

---
www.peer-schlechta.de
Organplayer and musicologist Peer Schlechta (Germany)
This musician settled down in the middle of Germany and is established in the musical scene of organplayers. He stakes his reputation on his quality of music and scientific work. The down-to-earth design and artistically arranged photography is 100% custom made. The content will gradually increase.

---
www.freizeitheim-wahmbeck.de
Educational Institution and Youth Hostel Wahmbeck (Germany)
We provided full service, to advertise the Educational Institution and Youth Hostel, which is built right beside the river "Weser". Our service includes a content management website (CMS), logo design, a huge banner, photography and various print media. More than 50 rotating photos display nice little details of the house and gardens to highlight the individual charakter.

---
www.hausarzt-dr-thiemann.de
Family Doctor Ulrich Thiemann - Bodenfelde (German language)
Crisp and short - but this website covers all necessary information about the family physician and his team. Many pictures of the surrounding gardens give a special note to the website. We supported the project and designed a new logo and a bright and fresh website.

---
www.musikschule-oberweser.de
Music School Oberweser (German language)
The Music School Oberweser provides information about musical lessons. We supported the Music School and created a logo and an individual, cheerful and informative internet presence. We also took a couple of photographs for the unusual banner.

---
www.heilpraktikerin-uslar.de
Gabriele Wolff-Bölkow - Alternative practitioner in Uslar (German language)
New skin for old homepage: It took only a few days to revamp the extensive Website of the alternative practitioner, who introduces herself and some special healing methods. The banner images with impressions of flowers, herbs and trees are provided by us.

---
www.ergosom.org
International Ergosom Association (German language)
"Ergosom is a quest to find the ideal way of being." This sentence of R.J. Tajon describes the goal of the International Ergosom Association with just a few words. We tried to match this goal in the way we took care of a straight forward and crisp design. To find the perfect design was our main focus.

---
www.bulles-biokaese.de
Bulles Organical Cheese (German language)
This beautiful osCommerce web-shop sells cheese from organical farms on a subdomain, while this link contains information about the farms, farmer markets and more. We adapted the existing, funny design and entered the data to the shop. Parts of the website are updated by the owner, but we take care of the webshop.

---
www.weinhandlung-roemer.de
Vine Store Römer - Bad Karlshafen - Weserbergland (German language)
Vine cultur, liqueur manufactory, vaulted cellar, wine tasting, music events, art und the heritage of the huguenots are displayed on this web-site. Large photographs welcome the visitors. We manage the periodical updates of cultural events.

---
folkband.spirited-ireland.net
Folkband Spirited Ireland (German language)
The German folkband "Spirited Ireland" didn't trust on Youtube, Myspace or Facebook, but created a personal "spirited" website with galleries, musicplayer, video stand-alone-player to invite event organisers as well as the audience to the taste of Irish Music.

---
www.schoene-papiere.de | www.nice-papers.com
Schöne Papiere - Nice Papers - Beaux Papiers
A wide range of paper is ideal for crafts and design with paper. The webshop of Roger Ullrich provides all kinds of precious natural papers, origami papers transparent papers. We designed the online shop, assist with technical advantages, for example Google Base. We also created the multi lingual homepage.

---
www.sprengel-ostfriesland.de
Parish East Friesland (German language)
Our customer designed the base of this internet portal. We integrated our ideas of an appropriate layout. A comprehensive archive builds the center of this web-site. We embed a gallery as a dynamic module to flick through the pages. We trained a staff member for periodical updates.

---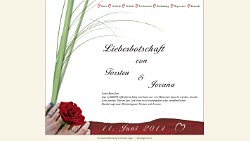 [ Top ]
Wedding in the WWW (German language)
When it comes to personal things on a web-site, date security is the most important point. For this reason the personal wedding homepage only shows up for invited guests. Before the wedding family and friends could read about the history of both, bride and groom. Galleries of the engagement, the wedding and the honeymoon were added. We designed all wedding stationery.

---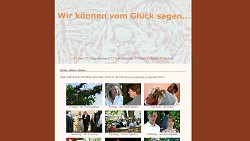 [ Top ]
Wedding in the WWW (German language)
As before another private wedding web-site contains several galleries and a wedding journal with hundreds of images, also available for download. Beside photography we arranged a digital record of the sermon, the wedding vows, music of the church service and the late party. A guestbook completes the web-site. The design based on the wedding stationery.

---
ekkw.theologinnenkonvent.de
Convent of the Female Theologians of the EKKW (German language)
Feathery pastel colours decorate this web-site, which contains pure information. A complex mail form invites new female theologians to apply for membership in the association. We reconstructed the old small logo for insertion in multiple media and any size.

---
www.alte-kulturpflanzen.de
Wild crop relatives - Ludwig Watschong (German language)
The world talks about biodiversity and the maintenance of economic plants. This Demeter nursery presents large-sized images of special plants and it contains a couple of videos, called Garden-TV. The gardener describes possibilities of growing your own seeds and maintaine your organical, ecological garden.

---
www.emmausgemeinde-moskau.de
Protestant Emmaus Parish in Moskau (German language)
The German Parish in Moskow required a modern, virtual ambient with a sacral feeling in the world wide web. They also asked for a content management system (CMS). We installed Joomla and reorganised the backend to meet our customers dreams of galleries, ecard-system and random pictures in the banner.

---
www.atem-stimm-sprachtherapie.de
Practice of breath therapy, voice therapy and speech therapy, Uslar-Solling (German language)
The exceptional design and the warm, inviting shades of yellow and orange underline the calm and friendly character of speech therapist Ulrich Bokemeyer-Holthausen. The holistic approach is mirrored in the design, which is close to some anthroposophical aspects of colour and shape.

---
www.diakoniestation-hofgeismar.de
Deacon Services Hofgeismar (German language)
Our layout and a series of photos were immediately accepted by our customer. The director asked for a serious, welcoming and humenely design. It was a pleasure to complete this layout in addition to the gentle and sympathetic words. After finishing the project we got order to update on a regular basis.

---
www.ekkh.de
Church district of fifty parishes (German language).
We designed structure and developed innovative ideas to fill this big project with life. All randomly displayed photographs on the top banner and most of the others are taken by us. We are still in charge and do updates on a regularly base.

---
www.seven-sundays.de
Rockband Seven Sundays (German language)
Seven Sundays provides rock-music at it finest and is available in the area of Göttingen, Hameln, Hannover, Solling, Uslar, Adelebsen. We colorised the drafted black and white outline, created by a band member. Of course the band's web-site contains a media sector with mp3 music, and images in a gallery.

---
www.pflanzlust.de
Organical Tree Nursery "Pflanzlust" in Nothfelden (German language)
The website of "Pflanzlust" is technically relaunched and designed. We used different elements for the layout, externally designed by a graphic artist. The modern responsive design fits for all display sizes and mobile devices. We also provided search engine optimisation and an online-shop.

---
www.pferdetraining-wellendorf.de
Horsemanship - Veronika Wellendorf, Uslar (German language)
The web-site demonstrates highly qualified horsemanship and training of horse and horseman. Impressive images and significant text reveal the transformation and improving communication between horse and horseman. Compilation of text and photographs is part of our update service.

---
www.kloster-bursfelde.de
Old romanic monastery in Bursfelde (German language)
The website of the spirtual center Bursfelde invites to discover and practice a spiritual life in groups, workshops and services. We developed and completed the structure, that was designed by a graphic artist. We simplified unified the internal and technical strukture, to ease the administration, which is in the customers own authority.

---
webshop.hugenotten.de
Webshop - German Huguenot Association (German language)
The Huguenot osCommerce Webshop offers jewellery (crosses of silver and gold) and interesting books about the history of the huguenots. Our customer had clear ideas about color and layout, which we tried to match as far as possible. We are ordered to enter new data to the shop and do updates every now and then.

---
www.kirche-zierenberg.de
Protestant Parish (German language)
The beautifully restored church is presented with many pictures and information on the wallpaintings. The virtual design tries to open the church hall as if you were there. We trained one of the pastors to do most of the updates.

---
www.wahlsburg.de
Local Government of Wahlsburg (German language)
Based on the opportunity to contact the local government and send various requests through the website we created a completely new style of mail forms. Various sights of the villages are shown randomly to invite tourist to the beautiful area. Updates happen on a weekly base.

---
www.gundula-bernhold-sopran.de
Soprano singer Gundula Bernhold (German language)
Energetic vibrancy and yet a light touch of the website tell a lot about the appearance of this fantastic singer. Gladly we followed the singers wish for simplicity and focussing on the main aspects of her work. We do regularly updates.

---
www.oberweser.de
Local Government Oberweser, Rural district of Kassel (German Language)
The huge internet portal for the local government of six villages was a particular challenge. On one hand it is supposed to have a modern and crisp appearance, on the other hand it needs to focus on welcoming touristic developement. Each villages got a seperate chapter, but all together advertise local activities, events and touristic attractions.

---
www.klangtherapie-isabell-koller.de
Healing Sound Therapist (German language)
Serenity, lightness of being - this website is supposed to reflect the aim of a therapy with singing bowls and the sound of the gong. The design is simple on first sight, but displays artful color gradients. Changing aphorisms complete the series of photographs of instruments. The overarching logo was part of our creative work.

---
www.techno-service.biz
Holger von Werder GmbH (German language)
A clear structure and a simple, timeless design with a technical touch are the perfect base for the homepage of a company, that provides information especially for architects and bigger companies, who want to get a first impression of the various offers regarding home automation. We are asked to do all further updates.

---
www.orgeldokumentation.de
IAOD - International Organisation of Organ Documentation (German language)
International, subtly multicoloured, just like the sound of the instruments that are in the centre of the organisation's interest, that's the appearance of the IOAD's web site. It will contain a wealth of information on the "Queen of all instruments". It's supposed to be be-lingual soon.

---
www.bruecke-online.net
German association of parishes (German language)
bruecke-online has to represent the unity and co-operation of eight individual villages. We took all photographs and designed with full service from the start. After 8 years of existence this website got a new style and addaption to the current technical standard in 2012.

---
www.eichsfelder-schnittkaese.de
Regional Speciality: Cheese from Eichsfeld in Demeter-Quality (German language)
Close to nature and appetising, this is, how web-design for a regional organic cheese farm has to be. Environmental specialities will be one of important goals in future. We are always happy, to offer help and support for ethical and ecological projects.

---
www.dreschflegel-saatgut.de
German association of seed producing ecological farms (German language)
The "Dreschflegel" website was designed in teamwork with the association. We now master and update the project. The additional shop is created and mastered by the Dreschflegel office.

---
www.lemper-translations.de
Translator for English, Spanish and German translations
A crisp surface hides the elaborate technology in the background, yet the multi-language web site (English, Spanish and German) can be easily maintained by the owner.

---
www.hugenottenmuseum.de
German Museum of Huguenots - Bad Karlshafen (German language)
Classic and ageless appearance was the only appropriate decision to publish the museum on the internet. The homepage displays a lot of pictures from the museum archive. We trained the secretary to do the updates.

---
www.worpswede-ferienwohnung-paula.de
Exklusive Holiday Home in Worpswede (German language)
The artistically restored former studio of famous artist Paula Modersohn-Becker required a design in true colours, that carries the atmosphere of the room. Visitors should be restistless tempted to spend a great time at the premises in the north of Germany.

---
www.uphoff-gaerten.de
Landscaper Philipp Uphoff (German language)
Many meaningful photographs for references are the heart of this website. We use our grafical knowledge to create unusual pictures and let flowers grow on the web.

---
www.joebuckley.com
Solicitor in Bray, Ireland (English)
We designed and basically constructed the website of solicitor Joe Buckley. Photographs were taken and post-processed by us. After finishing the basic framework the owner took over and completes the contents on his own.

---
www.ziesefotografie.de
Photo-designer and teacher (German language)
This site was built with frames, which mostly includes a couple of technical problems. We revamped the website in the technical background, but kept the original design, composed by the photographer himself. From now on we also host the site and do all updates.

---
www.spielraum-sprache.de
German storyteller Gudrun Rathke (German language)
Carefully combined colours and layout suit the storyteller's taste and get across a crisp and personal touch. A couple of galeries show pictures of various projects with children. Hosting and further updates are in our hand.

---
www.orgelbau-krawinkel.com
Organ building company in Germany with international connections (English)
Due to international business this website will be bilingual, when it is finished. We were asked to create a logo for the header, that represents the business colours as well as the products. The owner was trained to update contemporary issues. The website was fully translated by one of our partners.